This Spring FAIRsFAIR published an implementation story [1] on FAIR Island aligned with their theme: "Supporting Data Management Planning for FAIR."
From the FAIRsFAIR website:
FAIRsFAIR Implementation stories illustrate good practices in research communities and organisations to support the implementation of the FAIR principles. These practices encompass 'FAIR-enabling' actions as recommended in the EC Expert Group on FAIR report Turning FAIR into Reality and the FAIRsFAIR Recommendations on practice to support FAIR principles.
The implementation story drew from our NSF EAGER narrative and our presentation to RDA-US in August 2021. Our story featured the prototype work that we have done tagging and tracking outputs through the DMP and highlighted the Moorea Biocode Retrospective DMP and PIDgraph.
We were happy to be included here because it provided an outside perspective on the project. In particular, the FAIRsFAIR summary of our project's recommendations are spot on!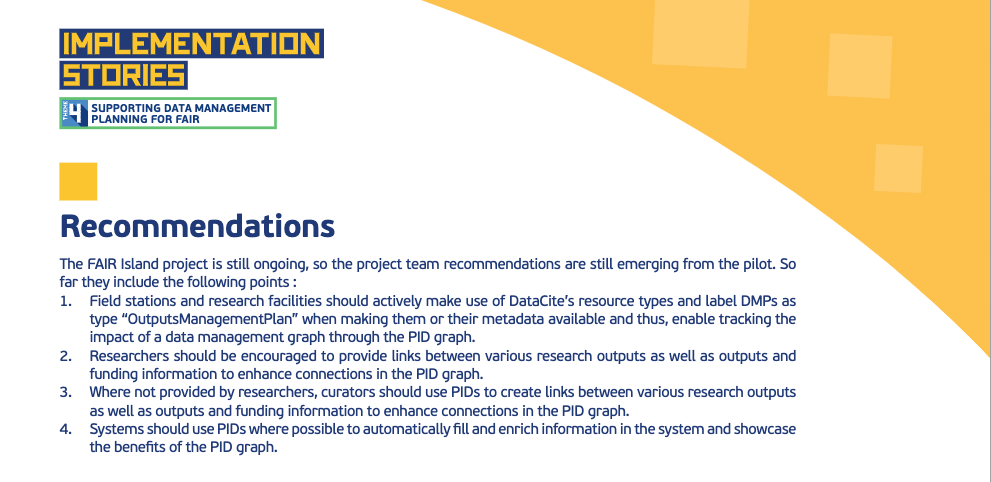 References:
[1] Herterich, Patricia, & Whyte, Angus. (2022, April 4). Tagging and tracking outputs with machine-actionable DMPs – the FAIR Island project. Zenodo. https://doi.org/10.5281/zenodo.6412320